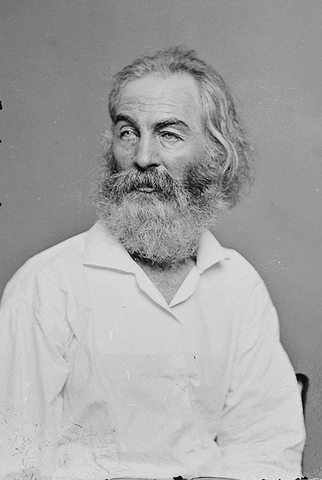 There is something in the heart of American literature, and maybe in America experience itself, that lends itself to first person narration. Huckleberry Finn, Moby-Dick, The Great Gatsby, Catcher in the Rye are all told, not from the lofty perch of a Dickensian all-knowing and impartial narrator, but by a character in the story itself, in the rough-and-tumble of subjective experience—Huck Finn, Ishmael, Nick Carraway, Holden Caulfield; these feel like old friends as much as books.
Marilynne Robinson said once in a lecture at the 92 ST Y that no writer in the English language, other than perhaps the Kings James translators of the Psalms, synthesizes human experience into the universal "I" or the universal first person better than Walt Whitman. What this means in layman's terms is that, true to the American form, reading the poetry of Walt Whitman can be like coming into contact with a missing and yet very familiar part of yourself. Kind of like a friendly and slightly drunken cosmic comrade who at first seems to be overstepping his boundaries by putting his arm around your shoulder and then without asking begins telling his whole life story; but who then slowly begins winning you over with undeniable charm.
In his most famous poem Leaves of Grass, as Whitman describes himself and his observations, and because he so effectively does so in the first person, the listener is lulled into a kind of illusion that their own mind is the one producing the words.
The famous first stanza invites this kind of activity on the part of the reader:
I celebrate myself, and sing myself,
And what I assume you shall assume,
For every atom belonging to me as good belongs to you.
I loafe and invite my soul,
I lean and loafe at my ease observing a spear of summer grass.
My tongue, every atom of my blood, form'd from this soil, this
air,
Born here of parents born here from parents the same, and their
parents the same,
I, now thirty-seven years old in perfect health begin,
Hoping to cease not till death.
Creeds and schools in abeyance,
Retiring back a while sufficed at what they are, but never forgotten,
I harbor for good or bad, I permit to speak at every hazard,
Nature without check with original energy.
So much has been written on Whitman and Leaves of Grass, it would be silly to go into a full account of those analyses. But, for our purposes of understanding how Whitman's writing works, notice the subtle dance he does at the beginning with the reader. What I think makes this poem feel so modern—it was published in 1855—is that it immediately builds a bridge to the reader. The first thing Whitman says is that he celebrates and sings himself, which is an odd thing to say and sounds prideful, self-centered, but then he immediately turns to the reader and assures us that we are to assume what he assumes and then states his reasoning: "For every atom belonging to me as good belongs to you."
The invocation of the scientific "atom" also makes this poem feel modern.
Houses and rooms are full of perfumes, the shelves are crowded
with perfumes,
I breathe the fragrance myself and know it and like it,
The distillation would intoxicate me also, but I shall not let it.
The atmosphere is not a perfume, it has no taste of the distillation,
it is odorless,
It is for my mouth forever, I am in love with it,
I will go to the bank by the wood and become undisguised and
naked,
I am mad for it to be in contact with me.
The smoke of my own breath,
Echoes, ripples, buzz'd whispers, love-root, silk-thread, crotch and
vine,
My respiration and inspiration, the beating of my heart, the pass-
ing of blood and air through my lungs,
The sniff of green leaves and dry leaves, and of the shore and
dark-color'd sea-rocks, and of hay in the barn,
The sound of the belch'd words of my voice loos'd to the eddies
of the wind,
A few light kisses, a few embraces, a reaching around of arms,
The play of shine and shade on the trees as the supple boughs
wag,
The delight alone or in the rush of the streets, or along the fields
and hill-sides,
The feeling of health, the full-noon trill, the song of me rising from
bed and meeting the sun.
Have you reckon'd a thousand acres much? have you reckon'd
the earth much?
Have you practis'd so long to learn to read?
Have you felt so proud to get at the meaning of poems?
Stop this day and night with me and you shall possess the origin
of all poems,
You shall possess the good of the earth and sun, (there are millions
of suns left,)
You shall no longer take things at second or third hand, nor look
through the eyes of the dead, nor feed on the spectres in
books,
You shall not look through my eyes either, nor take things from me,
You shall listen to all sides and filter them from your self.
This second group of stanzas in many ways unpacks and expands the first. While Whitman's poetry can often feel whimsical, as if it's going from thing to thing without much effort or consideration, a closer reading reveals that he sticks to very consistent themes, images, and techniques. He talks of perfumes and air in this first stanza, alluding to his breath, and then to Nature, leaves and rocks and eddies… He is in contact with Nature and also indistinguishable from it.
And then comes the shift to the reader again.
Have you reckoned the earth much?
Have you practiced so long to learn to read?
The last stanza in our little selection here in many ways embodies Whitman's approach to effective poetry. He earns this moment by forecasting his concern for the reader in the very first stanza, and the subsequent reflections on Nature, which he now unpacks as a challenge to the reader to interrogate their own reasons for reading literature. What did we hope to get from reading Whitman? He is telling us to remember, before we read, to first experience life in and of itself—the origin of all poems.
You shall not look through my eyes either, nor take things from me,
You shall listen to all sides and filter them from your self.
Much of Whitman's writing is this reminder. That literature is a tool of amplification and celebration, whose theme always is Life. This is easy for the book nerd to forget. Many of us put the cart before the horse. But without Life there can be no literature.
___________________________
Interested in Walt Whitman & want to support the site? Check out Leaves of Grass on Amazon: