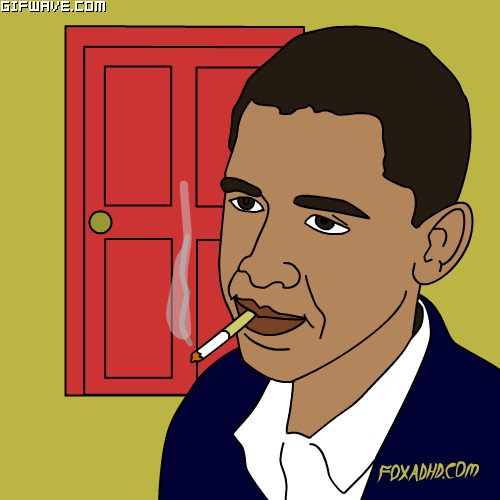 The other night I was watching the first episode of David Letterman's new show on Netflix, My Next Guest Needs No Introduction. He was interviewing Barack Obama.
I know better than to take away any serious political points from entertainment shows. But I had to admit I missed President Obama. His gleaming white teeth and laser sharp annunciation. Gone are the days!
Don't ask me about policy. If I had to think of one policy-relevant item that comes to mind circa the Obama presidency, the only thing that comes to mind is ObamaCare. And my opinions on ObamaCare are not interesting.
What was interesting was how the image of a president evoked a kind of nostalgia. Obama's first term began the same year I started my freshman year of college. His second term coincided with my graduation, the beginning of my adulthood. These parallels are impossible to divorce from my perception of his presidency. And such is the era we live in: The Image of the president giving pressers & pseudo-events is ubiquitous, difficult to hide from unless you live out in the woods.
So I was sitting on my couch being re-cast under Obama's spell when a small dollop of doubt clouded up my reverie. I thought of a podcast I'd listened to with the journalist Matt Taibbi, author of Insane Clown President (take a guess who that book is about). On the podcast Taibbi talked about his time covering the Obama White House and what troubled him about it. He said you wouldn't believe how buddy-buddy the journalists all were with Obama. Apparently one tradition on Air Force 1 was for every journalist to take a selfie with Obama, all of which were taped to the inside walls of the plane, pictures of gleaming young Ivy-League grads fawning over this figure they ostensibly had been hired to criticize. For the public good! So much for objectivity. It wasn't a good look, Taibbi said.
So I thought to myself. If I was a journalist WH Correspondent, would I have taken a selfie with Obama, would I fanboy?
Of course.
All throughout the interview, to the great amusement of Obama, Letterman made jokes about how Obama was still the President. It was only some grand collective delusion or conspiracy that someone else was now president, apparently some crazed lunatic. Neither ever mentioned Trump's name in the same way at Hogwart's they don't say Voldemort's name. It was all allusions to some misty menacing force in the air. Veiled in jokes, of course.
As they skirted around Trump and I remembered the story of Obama's Air Force 1, I began to consider Trump and the media's relationship to his presidency.
Obviously very different.
All out warfare from Day 1.
When I woke up the day after Trump won, I was just as surprised as anybody. I've always found Trump's character to be in poor taste, odious at times. During the primary season I thought there was no way he had even an iota of a chance.
Well, shows how much I know about politics.
The media's adversarial relationship with Trump is almost universally cast as a bad thing. From the left, because Trump is so bad, they are always having to find new evil things he is up to, and what fractured times we are in with so many deplorables! From the right, because they see the media's coverage as an overreaction, and a clear sign of bias against conservatives, etc. You've heard it all before.
On the couch, true, I'm about two beers in, or maybe it's because I'm crazy, but I actually don't mind the press and its foaming-at-the-mouth approach to Trump. Some might call it biased or sensationalistic. But I think a good press should be aggressive with the political powers that they are covering. Not for clicks and views. But for the sake of achieving scrutiny and transparency on behalf of the American people.
Oh say can you seeeeeeeee
The real shame, I think, is not the media and their coverage of Trump. Or our so-called time of division or polarization, which has been a consistent news item since the 1960s. It's that the media took basically an eight year long lunch break under Obama. True, the man is smooth and nice and polished and has politics that everyone in the media can get on board with, and he was our first black president, etc. But if we cannot be self-critical, in politics or any other sphere of human endeavors, what gives us the right, besides power, to be critical of others? Reporters say all the time that Obama's was a 'scandal-free' presidency. Maybe so. But how would we know otherwise?
By the dawn's early light
If we are using truth as our measuring stick, it is only by the amount of effort we have put into pressure-testing our own ideas and beliefs, with counter-points and counter-counter-points, that we can in good faith criticize the ideas of others.
But if power is the measuring stick, anything goes. Truths, half-truths, lies. It does not matter. Whatever can be made into a weapon.
Pick your poison, I say. But you cannot have both.
Dave ends the interview by saying Obama is the first president he's ever truly respected. Obama thanks Dave. They shake hands. The two men stand. The audience applauds. They walk offstage. And then backstage they awkwardly fumble with the camera crew about which direction they should walk for the final shot. It's a bare blank hallway in both directions.
"We should redo this," Obama jokes. "They want a shot of us walking off into the sunset, together."
"How do you know this and I don't?" Dave jokes back.
"We're gonna go this way," Obama says. This time they walk away from the cameras, Obama's arm around Letterman. "Now they will be able to create a poignant moment."
______________________________
Interested in the nature of political media & want to support the site? Check out Daniel J Boorstin's The Image on Amazon: